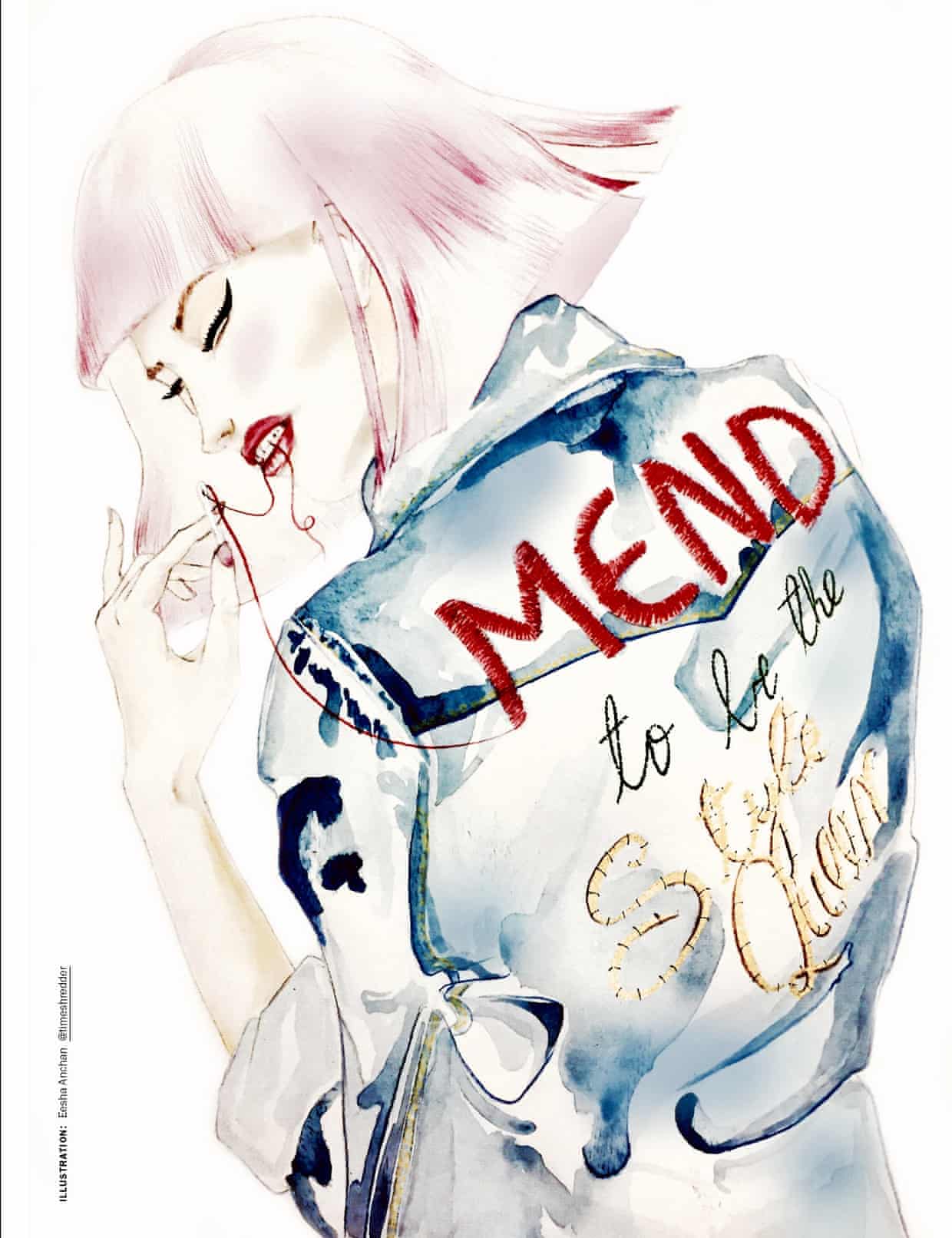 It's not just the fashion industry that has a massive waste problem. We all do. Our wardrobes are bulging with clothes, many of which we don't wear. The number of garments produced globally has doubled since 2000 to more than 100bn items. If you are anything like me, you will feel as if you own a good proportion of them already. Before you buy anything why not try and mend and fix what you already have. Here are some tips:
Learn the basics of how to sew. Just this skill means you can sew back a button and therefore never get rid of your favourite shirt or cardigan. Learn how to do it with the Sewing Directory
Clothes you love are worth the effort of repairing. Hand and Lock Shop can help you find a variety of embroidery patches to fix that tear. It may even add flavour to your clothes.
Tom of Holland are specialists who celebrate the fading art of repairing things you love. There is a certain "spirituality" evokes by giving life back to something that has given you great experiences.
Learn old school tips and tricks such as adding vanish to a small hole in your clothes or tights to prevent laddering. FYI – a pair of tights takes somewhere around 40 years to decompose when disposed of, NOT good for the environment.
Strategic Second-Hand clothing shopping is a great way to curb overconsumption in our modern economy.
A simple Hack to make sure your clothes last longer is to invest in a few decent hangers. Hang your skirts, trousers in neat order and give them space. Other accessories such as lint rollers and so forth will ensure your garments stay in great shape. learn how to fold and use your drawers. Read the care tags and google is your friend on how to look after your clothing pieces.
Buy good quality denim and try not to wash them in the first six months of their life. Thereafter we recommend hand washing.
Stain Protip – salt and vinegar work wonders when removing stains, this combo works on almost anything. For red wine – use a combo of salt, detergent and a wash as 30 degrees with a stain remover stick.
Your bags can retain their resale values if looked after appropriately. Fill them with tissue when not being used to maintain their shape and store in dry places (not overly dry)
Ever heard of a shoe – tree. use this to look after your shoes when you are not wearing them use a sachet of charcoal deodoriser in your trainers when you are not wearing them. If you have canvas shoes then a good run in the washing machine can retain them to pristine condition.
Buy the best quality items you can afford. use the wealth of information available to you on the internet via websites such as WHEN. Find what you need and save money at the same time. A win-win for you and the environment.